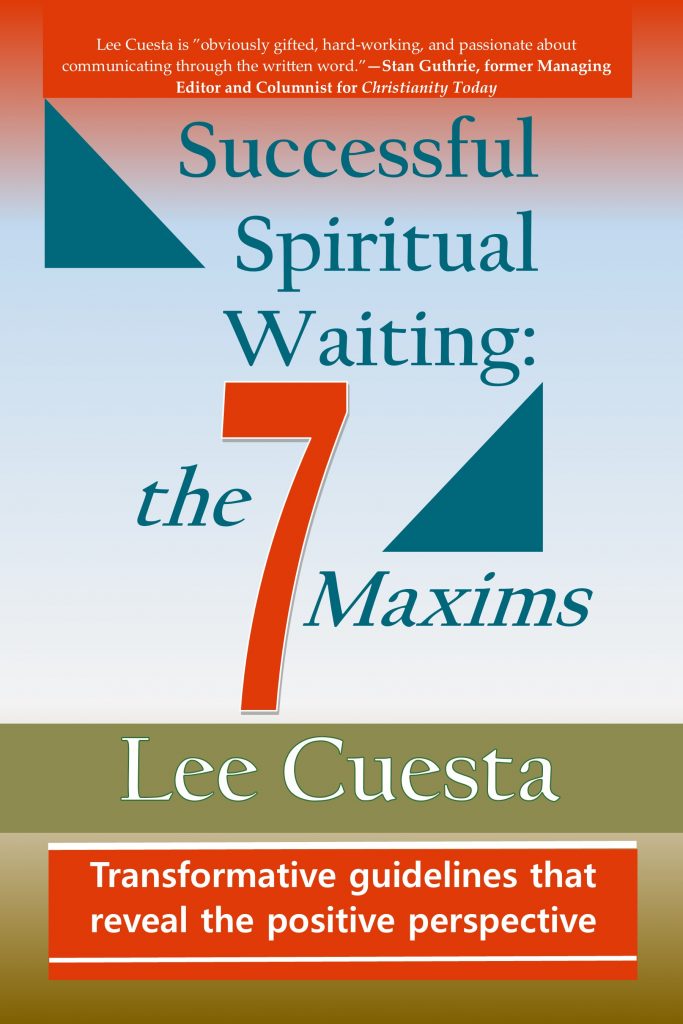 Such a fresh and unique approach to waiting on and for God has never been published before. Lee Cuesta draws upon 40 years of experience to unpack the deepest, fullest meaning of waiting, along with why and how. With lively and upbeat guidance enabling the reader to implement these principles, he shows that waiting is a positive spiritual practice that delivers success while reducing stress. Cuesta defines "success" as achieving and fulfilling one's life purpose, and he describes in detail how to succeed in the area of spiritual waiting. The book is rich with Cuesta's autobiographical adventures and lessons as he implemented waiting on God, and for God, in his own life. He's an ordained minister, and served as a missionary for over 14 years. Due to his own ecclesiastic background, in this book he uses the Bible as his basis, exploring the lives of preeminent spiritual waiters, such as David, Abraham and Noah. But the truths are universal, and Cuesta also quotes from the Tao Te Ching and the Bhagavad Gita. So followers of all faiths and spiritual traditions likewise will benefit from Cuesta's insights. He relates the experiences of more recent historical waiters, as well, such as William Carey and Nelson Mandela. Lee Cuesta is the author of two previous books, as well as multiple articles, including two about waiting for God, in both English and Spanish. Throughout his career, he has observed that if the topic of "waiting for God" is written about at all, it is usually with a negative connotation. Other writers bemoan, "Why does God make me wait so long?" This book departs diametrically from that point of view. A maxim is a concise expression of a fundamental moral rule or principle. It is generally any simple and memorable guide for living. Immanuel Kant said that a maxim is a principle of action that one gives to oneself, and Lee Cuesta's in-depth and compelling explanation of these 7 Maxims reveals the lifestyle of successful spiritual waiters.
Comments & Reviews
The book is full of practical tips for successfully waiting on God
Pulling from a multitude of religious traditions "Successful Spiritual Waiting" is at the same time an exhaustive look at what it means to successfully wait on God,  and also extremely approachable and practical. The "7 Maxims" offer the perfect way to implement this practice in your own life. The book is full of practical tips  drawn from the author's personal experiences.
The depths contained in this book are easily plumbed through how well it flows from one Maxim to the next. Every chapter builds on the previous one and by the end, you are left with a well rounded picture of successful spiritual waiting as well as a roadmap to implementing it in your own life.
Most people have had the experience of waiting on God, this book does a great job of showing how that can be a joy rather than a chore. If you've ever had that experience, I would highly recommend this book. — BEN
Excellent
We all want more peace in our lives as well as the knowledge that our lives are in alignment with what we are meant to be doing. Lee Cuesta's Successful Spiritual Waiting: the 7 Maxims is a must read for anyone searching for lifelong fulfillment. Waiting is a fundamental part of the human experience yet for such a seemingly simple concept, it tends to be one of the more difficult aspects of life for us to implement. Cuesta masterfully unpacks these seven maxims and shows how we can live a successful life by waiting on God. — ENOK

Very timely book
I really enjoyed reading this. It seems very timely for this strange season of pause and uncertainty that I think summarizes the past three years for me and probably a lot of other people. I appreciated the variety of insights from multiple spiritual faiths and enjoyed the personal stories woven throughout the book. The chapters are easy to read and have practical applications. I would definitely recommend. — EMILY

Lynn in Colorado:
I have been reading your books and have enjoyed both of them. Thank you for sending them to me. I admire anyone who has writing skills like you do. It is so true about waiting on the Lord and it is all in His timing. I have prayed for my three nephews' salvation and my sister and brother-in-law's also for years, and recently my nephew, much to our joy (my 25-year-old nephew) accepted Christ into his life. God put into his life a very nice young girl whom he is going to marry who is a Christian.
Where To Buy