My new book, Successful Spiritual Waiting: the 7 Maxims, was published last month, both hardcover and paperback, and already the publicity is popping! It all started with a press release, which I invite you to reprint, or use as a basis for a more in-depth article, and distribute as widely as possible! First, I want to share the link to the press release that was published at PR log on September 7. It is located here. Again, you are welcome and invited to reprint this release in your own publication or on your website, as well as to contact me for further information.
Next, the press release was picked up by The Daily Herald in Everett, Washington, north of Seattle, and they printed this abbreviated version on September 11 –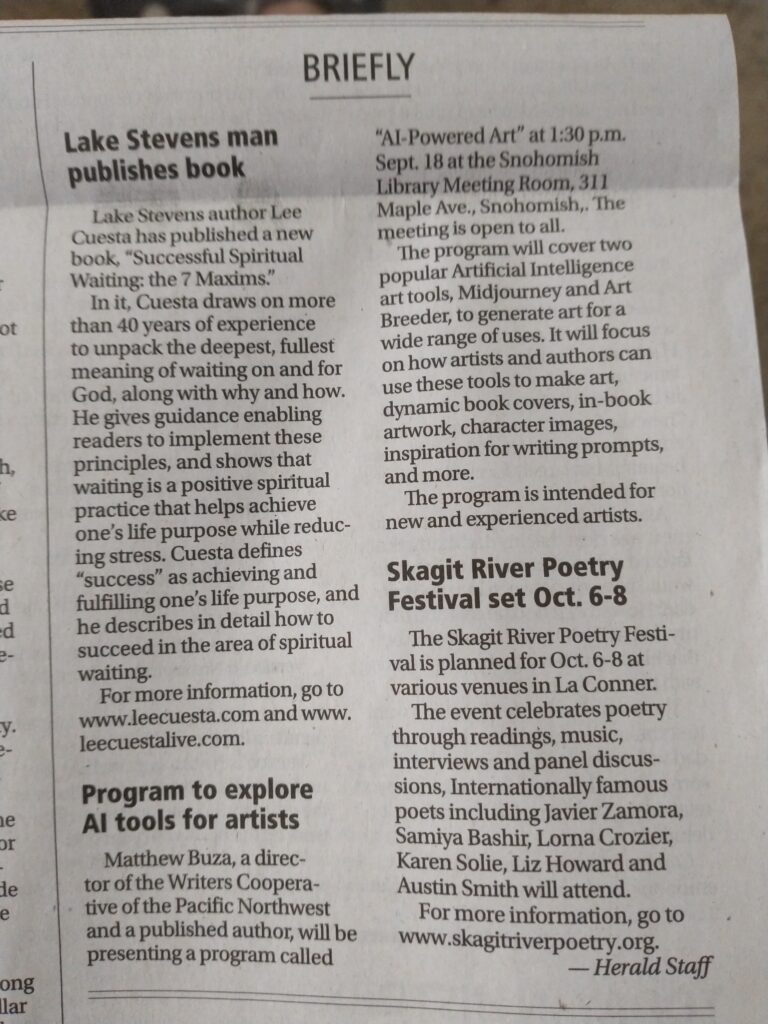 In addition, The Daily Herald posted this identical article on their website, with live links to my websites.
Then I received a very thoughtful and considerate email from Michelle Roedell, the Editor of Northwest Prime Time in Seattle. Here is what she said:
Hello,
I recently received an article about a new book by Lee Cuesta.
First of all, congratulations on the new book! Such an accomplishment.
I wanted to let you know right away that Northwest Prime Time doesn't cover anything related to religion, so this is not a good fit for us.
However, I wish you all the best.
Warm regards,
Michelle Roedell, Editor
Northwest Prime Time
So even though the publicity for Successful Spiritual Waiting: the 7 Maxims was not a good fit for her publication, she took the time to congratulate me, and wish me all the best!
I also received positive comments from a person in a highly placed position in the marketing division at David C. Cook, a major publisher in Colorado Springs, after he read my new book. He wrote this:
"Very nice way of bringing in the correct part of waiting in this chapter. It needs to be said, which Cuesta does, that waiting is NOT sitting on the couch, waiting for God's call. Rather, it's that convergence of being diligent in the meantime as God sets up His future purposes for us. Cuesta brought the thought home of waiting being a discipline, an art and a needed skill to be acquired. His summary of fear of success and action steps is perfect. I like the bullet points Cuesta gave in the final pages, and it helped to coherently bring the maxim together."
Another reviewer posted this:
"We all want more peace in our lives as well as the knowledge that our lives are in alignment with what we are meant to be doing. Lee Cuesta's Successful Spiritual Waiting: the 7 Maxims is a must read for anyone searching for lifelong fulfillment. Waiting is a fundamental part of the human experience yet for such a seemingly simple concept, it tends to be one of the more difficult aspects of life for us to implement. Cuesta masterfully unpacks these seven maxims and shows how we can live a successful life by waiting on God."