Seven Viking Days already has been reviewed!  Its first review is by Midwest Book Review, and I am reprinting it here verbatim, with permission.
Seven Viking Days
Lee Cuesta
Infinity Publishing
1094 New  DeHaven Street, Suite 100
West Conshohocken, PA 19428
LCCN: 2015937660     $29.95
ISBN:  978-1-4958-0584-4
www.infinitypublishing.com
By D. Donovan, Senior Reviewer, Midwest Book Review
Seven Viking Days offers up Viking tales of Thor and others in a hardcover full-color children's picture book that gathers these tales under one cover and adds vibrant details about Viking lives and history.
It would have been all too easy to just present Viking folklore alone; but the added value of this approach is that it tailors its stories to reveal Viking lives and society and thus takes the folktale format a step further by creating a lively history. The book will be published in October.
Mia Hocking's lovely illustrations create a collage of images and backgrounds to accompany text that will lend to both parental read-aloud and leisure enjoyment by kids with basic reading skills who have moved beyond the one- or two-line elementary picture book format.
From the origins of Tuesday in 'Tiu's Day' to how other days of the week and Scandinavian roots are still present in modern culture, Seven Viking Days uses repetition, icons for the days, discussions of days' names and their roots in legend and story, and more.
The result is a gorgeous presentation of Viking vignettes that will interest adults as well as children.
This review, along with others that are forthcoming, is the result of obtaining Advance Reading Copies, or ARCs, which I've been able to send out in order to receive prepublication reviews.  In fact, you can visit my profile at BookLife, which is a part of Publishers Weekly, by clicking on this link: http://booklife.com/profile/lee-cuesta-7094.  Or you can click on this link to go directly to the BookLife page for Seven Viking Days:  http://booklife.com/project/seven-viking-days-7626. Here is the most recent email message that I received from BookLife:
Dear Lee:
Congratulations! Your BookLife project (Seven Viking Days) been selected for review by Publishers Weekly!
In the coming weeks your review should appear in Publishers Weekly. When it does, you will be able to see it on BookLife's review page:
Pretty exciting stuff!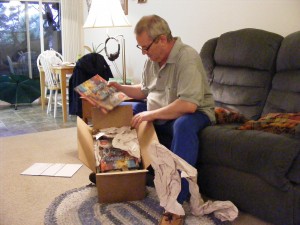 In these photos, I am opening the box from the publisher, on the day it arrived, containing the ARCs.
Soon after this, I shared my excitement via email with Mia Hocking, the illustrator of Seven Viking Days.  This is what I wrote:
The books are fantastic!  They were delivered this morning.  They look fabulous, from the glossy front cover, which really pops, all the way through to the last page!  It is a real book!!  In fact, I noticed for the first time two additional, subtle spreads that you created, now that I've seen it in book form.  It is an awesome achievement, so full and overflowing with color.  Thank you so much for partnering with me!
Another photo shows my grandchildren holding an ARC, which soon their dad, my son, will present to a famous and prominent bookstore in Tennessee.
Having the ARCs also has enabled Mia to show Seven Viking Days to local bookstores, such as Powells.  Mia told me that an acquaintance of hers "took an ARC to Skagway (Alaska) to give to the owner of the Skagway News Depot.  Mia wrote:  "I don't know what to expect from this contact, but I do know Skagway and if nothing else, we would have international exposure should he offer to carry the book. Skagway summers are loaded with tourists with money to spend. Who knows, maybe we could take a trip to Skagway for a book signing event."
She has presented it to other venues as well, where events are already scheduled, including an exhibit at the gallery where Mia is a member, and the events for our Launch Day, which is October 24.  More about these in an upcoming blog post!