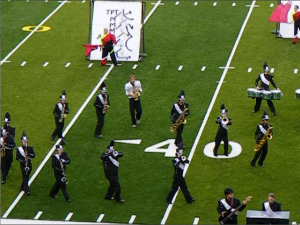 Inside my skull, the intense percussion is still resounding.  Today it is slightly subdued.  But on Saturday night (slash) Sunday morning, when we'd just returned from the 32nd annual Festival of Bands at University of Oregon in Autzen Stadium, my brain was pounding with it.  I also could still hear the announcer as he repeated the introduction for every band during both preliminaries and finals.  My son — although still in middle school — was performing with the high school marching band (Tigard High School) as they competed against other bands from all over the Pacific Northwest.  It was the culmination of the marching band season that began during the summer. And his band placed first in their division (Single A Class), with a score of 75.9!  In addition, they won in both Percussion and Visual Performance for their division.  I am very proud of him and the entire band – not only for their award-winning performance, but also for their commitment to days and days, and nights upon nights, of practice.
As I sat watching the literally day-long competition, I jotted down some observations, thoughts and questions on a scrap of paper that I always keep in my pocket just for this purpose. My predominant question was this:
What is the real-world value of this activity for the multitude of hours that have been invested in it?  I mean, this is a 7.5  to 8.5 minute pageant in three movements on a football field.  Where else in the world will any of these kids ever put on a uniform (i.e., a costume), play a musical instrument, and march in perfect, synchronized coordination with a large group of people?  This is something that no other big-brain mammal would ever conceive of doing.  (Or is this what dolphins do when they're swimming together in a school?)  And yet, as evidenced by the participation and the spectators, this activity fulfills a valid, peculiar niche in society.  In fact, I felt the powerful emotion of a common affinity – we're all here for a common purpose – like the feeling in the crowd at a NASCAR race, I imagine.
Are there marching band scholarships available from the colleges and universities??  Maybe that's part of the real-world value.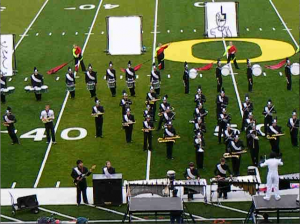 At the Festival of Bands 2010, I was able to see the performances of both my alma maters in one day – not only the University of Oregon Marching Band, but also Sunset High School, who won everything in their division!  And I myself was in the Sunset marching band when I was in high school, but that was before the days of competitions.
After at least seven hours watching these performances, it begins to feel like I'm seeing the same group over and over again, just with a change of costumes and flags. And what's the fascination with girls twirling, throwing and catching white, artificial rifles?
(To view Tigard High School's award-winning performance at the 2010 Fessstival of Bands, click on this link.)